Oh, for real?
Let us not forget that many geniuses on the Right also still think that Marina Abramovic's performance art is a for real occult ritual that is somehow related to pedophilloic pizza parlors.
For those out there who are genuinely afraid that some evil feminist witches are going to put curses on them, Jennifer LeClaire of Charisma News has got them covered. She warns that, this being October, it is pretty likely that some witch out there is going to put a curse on them. For reasons! Maybe because they're Brett Kavanaugh, or a rapist, who knows.
I'm just gonna include this screenshot because it is freaking hilarious.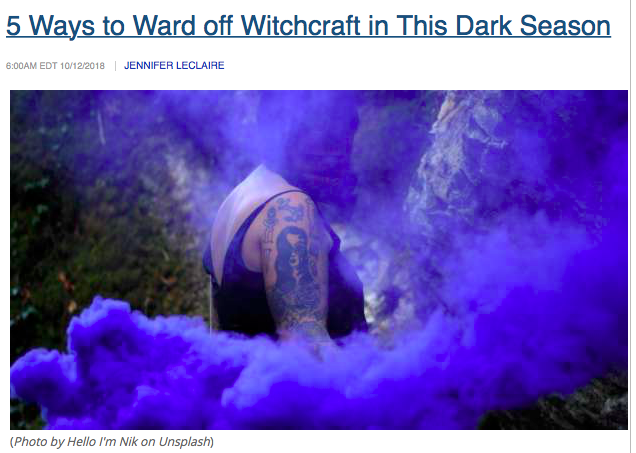 She writes:
To everything there is a season—and this is the season where witchcraft gets heavy, demonic imaginations target minds and infirmities inflict bodies.

Of course, Jezebel and her witchcrafts can creep onto the scene any time of the year. But every single October for as far back as I can remember I see an onslaught of spiritual attacks from every direction. It's like clockwork.
What is witchcraft? Merriam-Webster defines witchcraft as "the use of magical powers obtained especially from evil spirits; the use of sorcery or magic; communication with the devil or the familiar." You might think of the voodoo priests or the witch doctors, but as I've said before, even Christians can release witchcraft at you with their thoughts and words.
Is she talking about the malocchio or something? I don't know! That's the only way I know of that someone can accidentally curse someone else, and I am pretty sure you can just get rid of that with some olive oil, an egg and a few Hail Marys or Our Fathers, if you are so inclined. What I do know, however, is that I need to immediately start a band, right now, called "Jezebel and her Witchcrafts."
Alas, none of LeClaire's remedies include olive oil or eggs. They do, however, involve "girding the loins of the mind," which — from a purely biological standpoint, seems an impossible task:
Gird the loins of your mind. The first step in any battle is to gird up the loins of your mind. 1 Peter 1:13 says, "Therefore guard your minds, be sober, and hope to the end for the grace that is to be brought to you at the revelation of Jesus Christ."

The battle really is in the mind—or at least it starts there. Last week, a friend of mine who had a stroke many years ago began manifesting with post-stroke symptoms out of the blue. The enemy was working on his mind, trying to convince him that what he had been delivered from was returning. Meanwhile, a lump manifested on the back of my neck that itched and burned like fire, followed a few days later by ear pain so bad that I could hardly think, the feeling of knives in my throat when I swallowed and rocks in my stomach all at once. I finally broke down and went to the doctor. My vitals were normal. No sign of infection. I am convinced every bit of it was witchcraft.
Yes, this definitely seems like a real thing that happened.